Grow your Business With Our New
Facebook Ads Strategy!
​Get Your Content In Front Of Your Target Consumer, Reach
New Audiences, Get People Engaged, And Drive Conversions.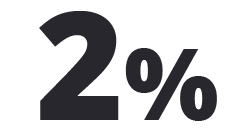 Reportedly, Content From
Business Pages Only Reach 2%
Of Their Followers Organically. Most Businesses on Facebook are
Finding It Hard
To Reach Their Target Consumers
WHY YOU SHOULD
ADVERTISE ON FACEBOOK
Engage People With
Your Content
Deliver content in front of your audience and get them engaged!
Increase Conversions And Generate Sales
With different targeting strategies, you're guaranteed to find your target and drive conversions.
More than two billion people use Facebook — so no matter what kind of audience you want to reach, you'll find them here.
Start using Facebook to your advantage and grow your
business with BlitzBe's proven strategies now.
GET STARTED WITH FACEBOOK ADS!